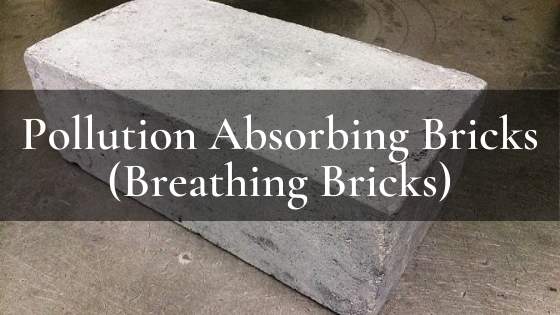 Air pollution is the biggest problem world facing nowadays. It causes about seven million premature deaths every year. Inhabiting air pollution takes away at least 1-2 years of typical human life. In Italy, only 90,000 people die every year due to air pollution.
In the construction industry, great advancement is being made to be part of the eco-revolution. Many alternate materials are being developed with conventional materials.
Also Read: 5 innovative building materials in civil engineering.
While manufacturing conventional bricks creates a lot of air pollution. It is a big contributor to air pollution.
So,
What if buildings could take a more active role in removing pollutants from the sky?
What if they could work a little more like a vacuum cleaner?
The alternate material which will not produce pollution while it is manufactured and also it decreases air pollution is pollution absorbing bricks. They are also called breathe bricks. It is developed by Carman Trudell, an assistant professor at Cal Poly San Luis Obispo's school of architecture and founder of both landscape and architecture.
Principle of Pollution Absorbing Bricks
Pollution Absorbing Bricks work on the basic principle of air filtration. It filters the outside air and provides it to the interior of the structures. These bricks filter the air and separate the pollutants and other particles like dust. The inspiration behind this genius innovation was the concept of cyclone filtration that we can see in a vacuum cleaner.
Material and components of Pollution Absorbing Bricks
The bricks are in the form of porous concrete block. They are specifically designed and shaped in a faceted manner, so as to direct the airflow inside the system. Shafts are provided for structural reinforcement. A coupler made of recycled plastic is provided between two bricks and a hopper is provided at the base for the collection of particles.
According to the test, which was carried out to detect the filtration capacity of the brick, it was inferred that the bricks, filters 30% of particles spanning up to2.5 microns or smaller in diameter, which is equal to smoke or haze, and it filters 100% of coarse particles with diameter more than and equal to 10 microns.
Advantages of Pollution Absorbing Bricks
The energy used in the production of this system is less as it does not use any mechanical components.
It is inexpensive in comparison with the mechanical air filtration techniques used in large scale. It is environment friendly and is sustainable.
There is no requirement for skilled labourers to construct the system, making it cost-effective.
Disadvantages of Pollution Absorbing Bricks
Breathe bricks passive filtration system is that the exterior wall takes as much as double the original space, which leads to contraction of the Interior space.
Pollution Absorbing Bricks can not be used in load-bearing structures than two-storeys.
The alternate material like breathe bricks, serves as a potent aspect for a greener tomorrow. It is beneficial in areas with the heavy particulate outdoor matter. It can mostly be used in regions with poor air quality. Small municipalities and developing regions can use this solution to curtail air pollution while providing a healthy environment for the residents.
Presentation on Pollution Absorbing Bricks