Start of My Civil Engineering Journey
For the ones who're studying civil engineering, I suppose you all remember the moment very well, when you first entered your college, with the designation of "civil engineering student".
"I am going to be a wonderful engineer", " I'm going to make lots and lots of money", "I will have my own house, my car, my team that I'll lead", and you just went through the excitement, even I did at the first.
After a certain time, you'll feel the pressure of your study, lots of assignments, projects, seminars, which only increases your expectations towards the goal, " I'm Working this much hard, there's no way I'll not sit and relax after I get into the job". Then at the end, you face the first question that I've written in beginning, you explain that to your interviewer, your interviewer smiles, you got your dream job, you become very happy and thinking of what to buy with your first salary, you join the company, and then you feel all hell just broke loose.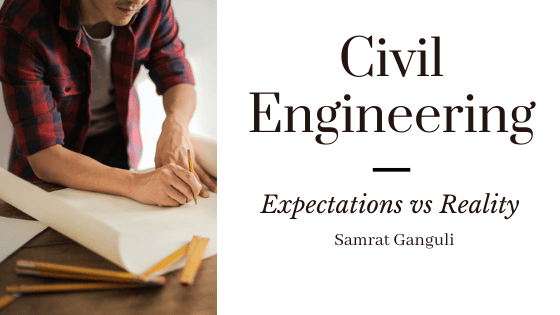 Expectations vs Reality: An uneven comparison
If you are a civil engineering student, I think you already know that this is not that "sit and relax" type field. In here "site" means most of it, but of course, there are exceptions. But even if you're well known about the job role you're about to enter, there's a huge difference of what you think and what you see. Many a time, this difference results in the rejection of your recruitment for that job.
Let me present a glimpse of the differences between expectations and reality on various aspects—-
Civil Engineering Course:
The expectation is, there is little to study about, compared to other streams, which you may start a month before the final exam, and can still bring good marks.

The reality is, there are around 6 new subjects every semester, and you need to complete a book of every subject, so technically, you need to complete 6 books of 500 pages or more, within less than 6 months, along with your assignments, projects, internals, practicals.
Placements of Civil Engineers
The expectation is, every year the number of placements is increasing, so in your batch, everyone will get placed at your campus interview.

Reality is, as this industry is complete "works at hand" based and you'll be recruited based on that, there's no guarantee what's gonna happen in your final year. You might be overflowing with jobs at hand, or completely no jobs at all, that's same for every year.
Salaries of Civil Engineers
The expectation is, you'll get a high package salary

Reality is, you'll be overflowing with works, and you might find yourself doing the jobs that are not part of your job, at the half of your expected salary, and that is still uncertain, depending upon the country's economy.
Nature of Civil Engineers' Work
The expectation is, you'll order around your subordinates and they will respect you, you'll have your team to lead.

Reality is, you'll find yourself getting scolded by your Superior, for a very little mistake that you might've been done a single time. Your every mistake is responsible for your company's losses, and you'll be held accountable for it.
I remember during my interview training, a classmate of mine was asked about how much salary does he expect, and he answered a figure, which he wouldn't get after 10 years even if he worked 24×7. So it's better not to belong on that imaginary world!
Balancing Expectations and Realities:-
So what to expect? How to expect things, that'll not break into reality? How about you combine that expectation and reality?
And there's only one best way to do that. Find the job role you want to do, find your career dream, and acquire every knowledge about it.
Acquiring the Knowledge may include, researching about your entry role, the path you're going to take to reach your dream, interacting with people's who have the similar experience, personally or through social media, etc. If you become happy by thinking that you will be able to work with a professional, you wouldn't mind even if they scold you, you'll get happy that they spend their time reviewing your work. I know it's quite hard to think about hard things, but hard work always pays off!
To learn about the reality, work hard, implement and you don't need to struggle to overcome the difference between EXPECTATIONS VS REALITY.
Also Read: