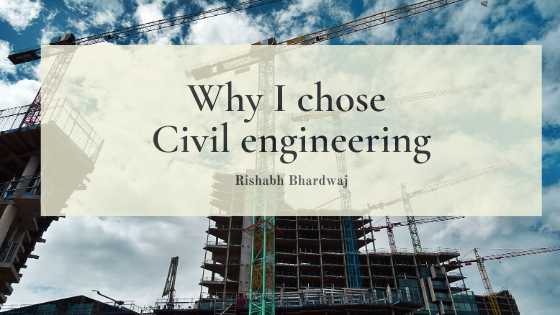 I was a bright student from the starting of my schooling. I decided to choose to study the science stream which contains physics, chemistry and mathematics.
Whenever I used to see a large structure like bridges or tall buildings, a curiosity inside me. Once during class 12th,  I saw a  television show on National Geographic named Mega Structures related to Burj Khalifa. This was the exact moment of my life when I decided to choose civil engineering.
I was a creative one from my childhood. I was quite interested in the drawings. As a civil engineer, I love to plan a house on Auto CAD including exterior on REVIT Architecture.
If you are a civil engineer than Auto CAD is a very important software for you where you can show your creativity. I had watched another show about Palm Island in Dubai which introduced me to the miracles of architecture and civil engineering.
Civil engineering is very important all over the world as building and maintaining structures will always be important. Travelling to different countries was also an exciting reason to choose civil engineering because the demand for civil engineers in every country always going to exist. If you love to travel and explore the world you should definitely select civil engineering.
I always wanted to make a career out of my life rather than just having a job, and hopefully, if things go well I will end up with my own engineering company and be my own boss.  It is not as difficult as people think to start your own civil construction company. You just need to gain experience in civil engineering like site engineering, Auto CAD designing, 2D and 3D designing etc. and we can start our own company.
Payscale was also a factor when we choose any stream of engineering. In civil engineering, salaries increase exponentially with the experience.
As a civil engineer, I feel that there is always an opportunity to learn every time. Whenever a project starts there is an exciting fact that each project has its own challenges and new operational issues and I take it as a benefit for my future.
Consequently, choosing a career as a civil engineer allowed me to do something I enjoy,  to help the community, and achieve financial security at the same time.
No matter how difficult a situation becomes. I will be always ready to face challenges.  I believe civil engineering is one of that field for me in which I can show my abilities and creativity that's why I chose Civil Engineering as my profession.