Building information modelling (BIM) is a technology which provides a realistic three dimensional model of a structure containing different information of a structure in one single model.
In simple word, BIM is a single platform which combines different units of a structure making it easier to create clash-free structure.
It is a platform in which each and every information of the structure such as civil and mechanical units, electrical wiring and plumbing etc can be designed in one single model. The complete data of the structure can be shown in one single model using BIM.
BIM is a user friendly and easiest approach for clash detection and making things easier in the field of architecture, construction etc.
BIM can be used to generate plans, elevations, sections, 3 d models, Mep detailing, schedules etc. Do remember that BIM is an evolution and not a revolution.
Principle of BIM
The  two principles on which BIM works are
Interoperability model
It is the fundamental principle that brought BIM into existence. Interoperability is the dynamic/constant exchange of different information of the structure which strives to serve the building throughout its life cycle.
Federation model
This principle enables the combining of different information created across different cross functioning teams to make a single model. It is also called as a model federation. Different cross functioning teams such as mechanical, plumbing, electrical etc can be clubbed together into one single model.
Why BIM?
Building information modelling is simple and user friendly creates a hassle less environment for different cross functioning teams to work on the same project. The models created using BIM can be easily understood by each and everyone working on the project. Contractors, low-level workers etc. can easily understand the structure design and can construct structures with much effective.
Evolution of BIM
The concept of BIM was first put forward by professor Charles Eastman at the Georgia Tech School of Architecture in late 1970.
The use of BIM by the different cross functioning team such as architecture, engineering and construction (AEC) had started using BIM from the mid-2000s. Today much big construction and architectural companies are depending on BIM in making the success of their projects. Though it is used in many countries India is still in its initial stage in using BIM.
Advantages of Building Information Modelling
BIM improves productivity and creates an effortless working environment.
Reduces conflicts and clashes between different structural units.
Eliminates the uses of paperwork by producing electronic documents.
Creates accurate data in less time with less work strain.
Influence of BIM on industry problems
BIM enables better communications with the clients by providing better design visualizations. Changes can be made easily using clients feedback.
With good design concepts and coordinated drawings, BIM provides early detection and elimination of clashes.
BIM applications/ Dimensions
3 D visualization model in BIM enables animations, rendering walkthroughs.
Clash detection safety and logistics model
4D enables time model through project phase simulation and construction visualizations.
 5D in BIM provides cost modelling, estimations, quantity extractions to support detailed cost estimates. Real-time conceptual modelling and cost planning can be done through 5 D.
6D enables represents energy model, detailed energy analysis, life cycle analysis and day-night analysis can be performed using 6D BIM.
BIM Users
BIM has a wide range of users starting from architecture, builders, contractors, owners, engineers. With its user-friendly environment, it grabs everyone's attention.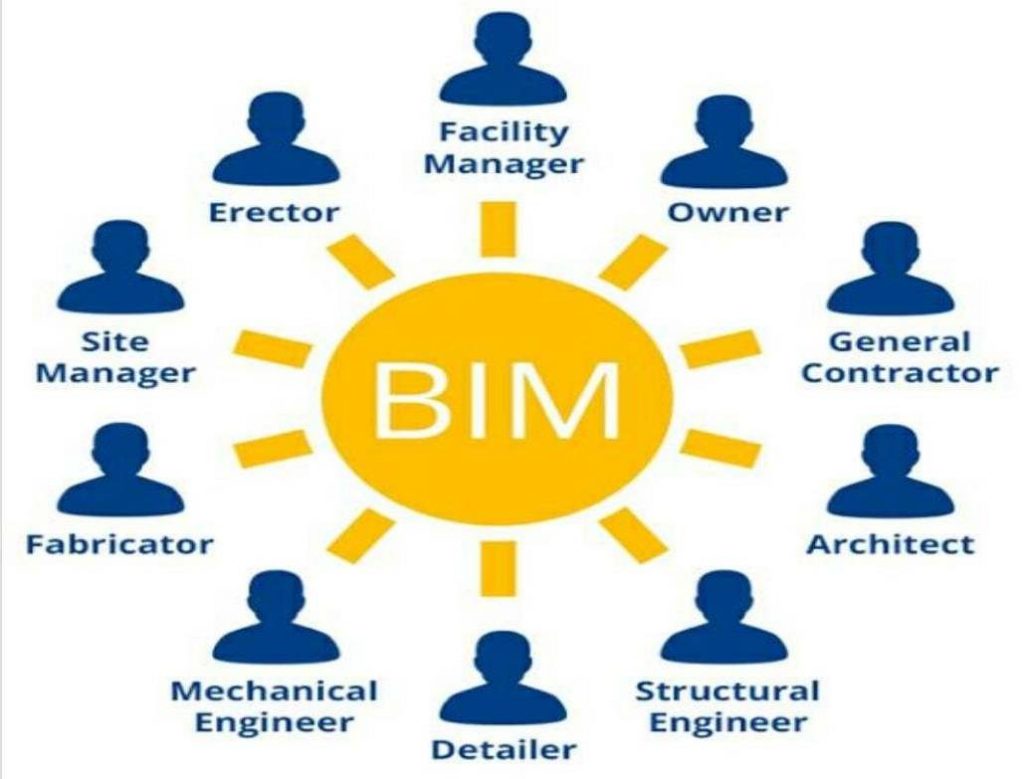 BIM Software
There are many software's that are used for BIM. Some of them are
Etabs
Bentley Micro Station
Graphic Archicad
3DS Max
Tekla Structures etc.