The very basic need of a human is shelter. The construction methods have evolved significantly in recent times.  As efficiencies in both the buildings and the project are required, the modern methods of constructions are becoming popular among builders and are being adopted in a large number of projects.
Modern Methods of Construction (MMC)
Both traditional and modern construction methods have the same basic process – planning, design, approvals, site preparation and development. From that point forward, however, the differences begin.
According to the materials used and on the basis of their way of application to the construction process, MMC can be of following types:
Precast Flat Panel System
Flat-panel units are built in a factory and transported to site for assembly into a three-dimensional structure that includes wall, floor and roof panels.
The most common types of panels are:
Open panels
Closed panels
Concrete panels
Structural insulated panels (SIPS)
Infill panels
Curtain walling
Composite panels
3D Volumetric Construction
Three-dimensional units produced during a factory fully fitted out before being transported to site and stacked onto prepared foundations to make the dwellings volumetric construction is additionally mentioned as modular construction. These units can be made from a light gauge steel frame, timber frame, concrete and composites. Volumetric construction is most effective when used for giant numbers of identical units, as could also be found in flats.
Flat Slab Construction
The flat slabs are of versatile nature, because of this feature they are used widely in construction. The flat slab provides minimum depth and faster construction. The system also provides column grids that are flexible.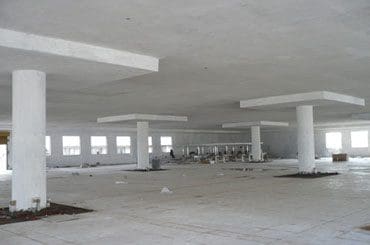 In comparison to other forms of construction, flat slabs are faster and more economic in nature.
Precast Cladding Panels
The cladding system is the installation of material over another that finally act as a skin or a layer. This system of the layers is not only intended for aesthetics, but it can help in controlling the infiltration of the weather elements.
Hybrid Concrete Construction
Hybrid concrete construction may be a method of construction which integrates precast concrete and cast-in-situ concrete to form the best advantage of their different inherent qualities.
The accuracy, speed and high-quality finish of precast components are often combined with the economy and adaptability of cast-in-situ concrete. This construction provides cost-effectiveness, buildability, safety and sustainability.
Thin-Joint Masonry
This system is an alternative to using 10 mm sand and cement mortar bed and cross joints. The thin joint mortar is supplied as a dry pre-mixed powder in 25 kg bags and is applied with a special spreader, 3 mm thick. It begins to set within 10 minutes and approaches full strength in just 1 to 2 hours.
The approach to use the skinny joint system is different from the sand and cement system. The approach to using the thin joint system is different from the sand and cement system.
Insulating Concrete Formwork
Insulating concrete formwork (ICF) may be a building system that uses lightweight formwork (made from an insulating material) to support concrete walls whilst they're being cast-in-situ and which is then left in place as insulation.
Precast Concrete Foundations
The precast concrete system can be employed for the rapid construction of the foundation and is more suited for a bespoke design. The elements required for the construction of the foundation are constructed off-site and brought to the site and assembled. The manufactured product must have the assured quality as specified by the designer.
These foundation systems help in increasing productivity, increase quality, decrease the soil excavation quantity. This is best suited for extreme and adverse weather conditions. When the construction is dealt on a highly contaminated ground, this system of construction is the best choice.
Twin Wall Technology
The twin-wall technology is a hybrid solution of a wall system that combines the qualities of erection speed and precast concrete with the structural integrity of in-situ concrete. This type of wall system guarantees structural integrity and is waterproof.
The twin-wall system has two walls slabs that are separated as shown in the figure. The two slabs are separated by a cast in lattice girders.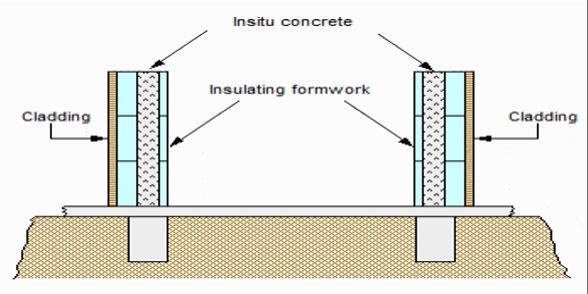 Advantages of Modern Methods of Construction
More Energy Efficient
Reduced Health and Safety Risks
Rigorous quality control
Economical to maintain
Reduced defects and snagging
Increasing site utilization
Built from sustainable and recyclable material
Reduced building construction times.
Reduced wastage.
Disadvantages of Modern Methods of Construction
Security risks for handling components at the construction site.
Initial cost in MMC is very high.
Multiple Transportation materials are required.
For handling MMC components, specialised types of equipment are required
Whether we accept it or not modern methods of construction are the future because in every aspect these are better than any traditional methods. It is the advancement of already available methods of construction.
Read more:
8 Modern Building Construction Techniques
5 Innovative Building Materials in civil engineering