The Building Code is a set of instruments providing guidelines for regulating the building construction activities across the countries as well as the globe. Its function as a Model Code for adoption by all the agencies involved in the construction works such as Architectures, Local Bodies, Government Construction Departments, Private Construction department.
The Code mainly consists of government regulations, development control rules, General building requirements, Fire safety requirements, Stipulations regarding materials, Structural Design and Construction, Plumbing Services, and lots of more.
Why do we need Building Code?
A Building Code is a compilation of rules that determine the standards for the construction of the building and Non-building structures. A Building must accord to the Code to obtain construction permission.
The primary purpose of building codes is to give public health, safety, and general welfare a priority. It also offers various approaches related to the construction and occupancy of buildings and structures, as well as the procedures for obtaining development and building permits that will be necessary.
History of Building Code
King Hammurabi enacted the first known Building Code in Babylon,1758. It didn't have any guidelines on how to work or what steps to use. Instead, it states that "If a builder has built a house for a person and his work isn't strong, and if the house he has built falls in and kills the householder, that builder shall be slain."
After the great fires in London (1666) and Chicago (1871), building Codes started approaching the risk posed to a building by its adjacent structures. Denser development in cities, and hazards associated in proximity and taller buildings, led to regulations for the construction of common walls between buildings and outlawing dangerous practices like fire chimneys. Problems in existing buildings lead to codes for stairs and railings, fire escapes, toilets and sanitary drains, and light and ventilation.
In 1905, the United States organization, the National Board of Fire, created the first National Code to minimize risk. By 1940, the US had three different regional code organizations, each with its Code. These three organizations and incorporated their codes into the International Code Council (ICC), and the first set of "I-codes" was published in 2000. These codes include the International Building Code (IBC), the International Residential Code (IRC), the International Energy Conservation Code (IECC), as well as plumbing, mechanical, fire and other codes.
Variations in Building Code
There were instances where some local jurisdictions choose to develop their building codes. A long time ago, all major cities in the United States had its building codes. However, due to the ever-increasing cost and complication of developing building regulations, nearly all municipalities have chosen to adopt model codes instead. For example, in 2008, New York City removed its 1968 proprietary New York City Building Code to promote a customized version of the International Building Code. The City of Chicago remains the only municipality in America that continues to use a code which city developed on its own as part of the Municipal Code of Chicago.
In Europe, the Eurocode is a pan European building code that has succeeded in the earlier national building codes. Each country now has a National Annexes that localize the contents of the Eurocode.
Similarly, in India, each municipality and urban development authority has its national building code, which is mandatory for all construction within their jurisdiction. All these local codes are variants of a National Building Code, which serves as model codes providing guidelines for regulating building construction activity.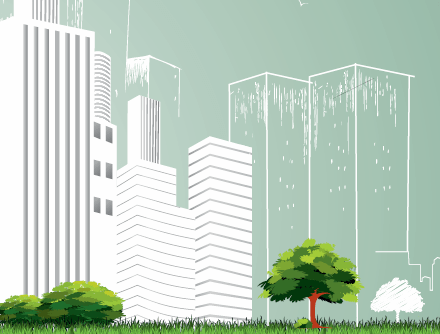 Salient Features of Building Code
Overall, there are various versions of Building Code out there employed in the construction/ architectural fields. They may be a bit different, but their features remain the same. Here are some of the universal provision which comes under Building Codes.
Provision for the safety of buildings against natural disasters and destruction.
Provision for certification of structural sufficiency by engineer & structural engineer.
Provisions for facilities and buildings for physically challenged.
Provision for safety in construction, keeping Fire and Life safety norms in mind.
Provision for the building material used in the construction of structures.
Provision for building services, Heating, Ventilation, and Air Conditioning.
Conclusion
A Building Code includes a complete philosophy and direction for successfully accomplishing the building projects through an integrated multidisciplinary approach right from the conceptual stage through planning, designing, construction, operation, and maintenance stages.
The Codes set the minimum criteria that should be met during the construction; however, it's not always accurate. There are instances where requirements are similar for different approaches, go with the strictest requirement. The Code is not applicable all the time. One should follow the codes to resolve discrepancies.
The Building Code serves as a perfect guide for Civil Engineers.