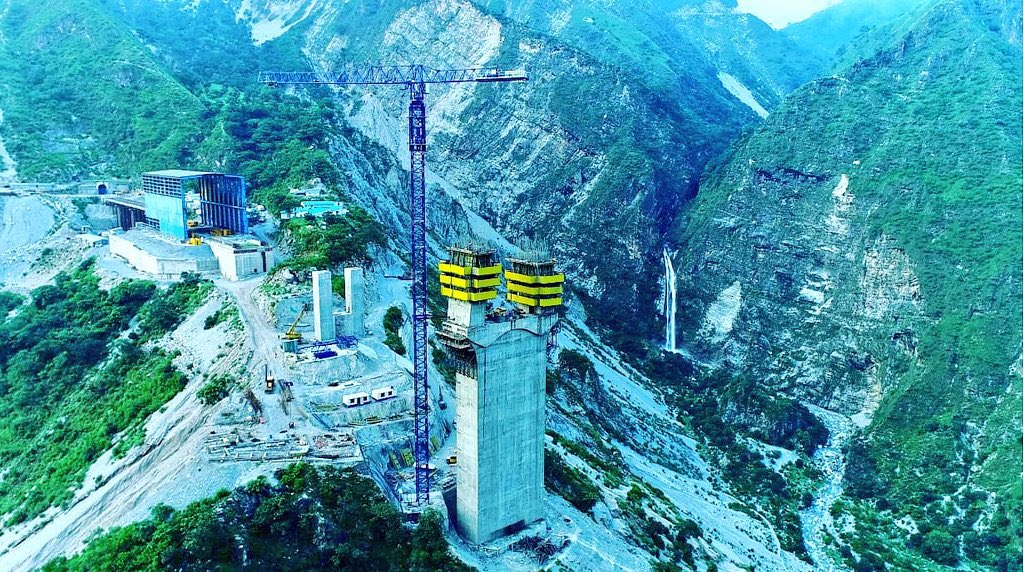 Anji Khad Bridge is proposed (under-construction) cable-stayed railway bridge across Anji Khad river. It will connect Katra and Reasi in Jammu and Kashmir.
This bridge is a part of the Udhampur-Srinagar-Baramulla Rail Link (USBRL) project of Northern Railway
It is India's first cable-stayed railway bridge. Earlier, an arch bridge was proposed for this location. The complex geology of the location made it impossible for an arch bridge to be constructed.
As the Anji river flows in a deep gorge (about 200 m deep), the design of this bridge was one of the most challenging tasks of the entire railway line crossing the north-western region of India.
Italferr, a company of Italian State Railways Group has been appointed for the design work of Anji Khad Bridge.
This bridge is being constructed by Konkan Railway Corporation Limited (KRCL) and IRCON International Ltd.
The project cost is estimated as ₹458 crores. The Anji Khad bridge is expected to be completed by April 2021.
Specifications of Anji Khad Bridge
The length of the main span is 290 meters. The total length of the Anji Khad Bridge is 473.25 metres including its approaches across Anji Khad river.
The length of the viaduct is 120 metres and the central embankment has a length of 94.25 metres.
The span of the bridge will be supported by 96 cables on a single pylon (tower), standing at a height of 331 metres above the river bed.
Recommended:
Indian Railways' 1st cable-stayed rail bridge, Anji Khad bridge, will be an engineering marvel (Video).