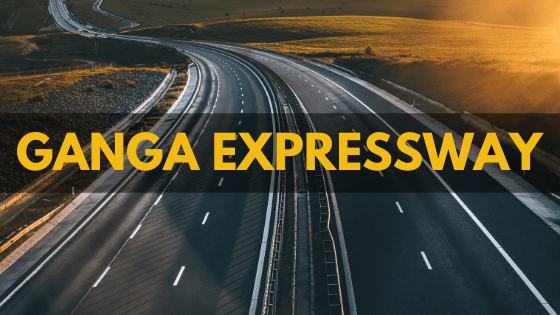 Ganga Expressway is a proposed six-lane greenfield expressway between Meerut and Prayagraj (Allahabad) in Uttar Pradesh. The expressway will run along the Ganga River. So it is named as Ganga Expressway.
The length of the proposed expressway alignment is approx 594 km in the first phase.
This expressway will ensure high-speed connectivity between the Eastern and Western boundaries of Uttar Pradesh. construction.
The proposed Ganga Expressway starts from Meerut-Bulandshahar highway (NH-334) near village Bijoli in  Meerut and terminates at Prayagraj Bypass on  NH-19 near village Judapur Dando in Prayagraj.
It will pass through 13 districts of Uttar Pradesh: Meerut-Amroha-Bulandshahr-Budaun-Shahjahanpur-Kannauj-Unnao-Rae Bareli-Pratapgarh and Prayagraj.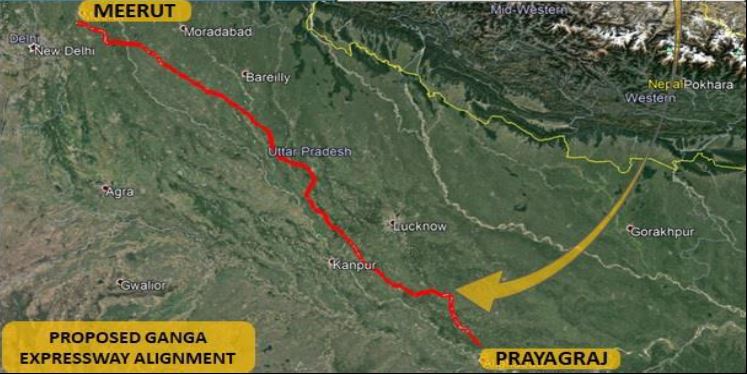 It will be an all-weather high-speed controlled-access expressway. It will decongest the increasing traffic on the existing road network. The expressway will also decrease travel time substantially.
The construction of the first phase of the Ganga expressway has started is likely to be completed by 2025. The cost of this ambitious project of the Uttar Pradesh government is estimated as ₹ 36,402 crores.
Second Phase of Ganga Expressway
In the second phase, following two extensions of the Ganga expressway will be constructed:
110 km long expressway which will connect Tigri (near Garhmukteshwar) to Uttar Pradesh-Uttrakhand Border (near Haridwar)
314 km long expressway section which will connect Prayagraj to Ballia via Varanasi.
The combined length of both the phases of the Ganga Expressway will be 1022 km.
Ganga Expressway Specifications:
This expressway will be of 06 lanes that can be expanded up to 8 lanes. All the required road structures will be constructed considering 8 lane width.
Width of ROW (Right of Way) of the expressway is proposed as 120 meters.
A service road of 3.75-meter width will be constructed at one side of the expressway in a staggered form so that the project area can get smooth transportation facility.
Ganga Expressway Status
Uttar Pradesh Expressways Industrial Development Authority (UPEIDA) has Entrusted M/s L N Malviya Infra Projects Pvt. Ltd., Highway Engineering Consultant and Infratech Civil Solutions (Consortium) to carry out the detailed project report (DPR) to implement the project on EPC Mode and selection of developers through the competitive bidding process.
The Project has been divided into 12 packages for the construction.
Detailed Project Report (DPR) of each 12 packages has been uploaded on UPEIDA official website.
(updated on 22 December 2020)