Retaining means to hold back the masses or loose soil where conditions make it impractical to let those masses assume their natural shape.
The retaining walls as the name suggests is a structure that holds or retains the soil, dirt, and earth behind the back.
There are many types of retaining wall structures that can be used to create a stable slope, terrain landscaping, prevent ground moving downhill. Some are easy to construct, others have a shorter build life, but all can retain soil.
Retaining Wall materials
Retaining walls can be made out of a variety of building materials, and it does depend on the individual. Following are the list of few common materials used during the construction of retaining walls:
Wood sheets
Steel and interlocking plastic layer
Reinforced concrete
Precast concrete elements (crib walls)
Closely placed soil-cement piles
Wire-mesh boxes (gabions walls)
Anchors into the soil or rock mass (anchor walls).
Design Considerations
Some points to consider when planning your retaining wall installation:
For Walls over 4 foot, use of geo-grid fabric is recommended
Use filter fabric at wet/dry soil, then cover with aggregates
Ensure good drainage with filter fabric, drain piping, backfill, drain piping, filter fabric, or weep holes.
Compact materials between each layer of installation
For stability, slant the walls a little towards backfill.
Installing Retaining Walls
Underneath are the essential 8-steps that are carried out during the installation of a retaining wall:
Tools and Equipment
Retaining Wall Plan and Layout
Excavation
Base Material
Compact
Lay the First Row
Backfill
RetaingWall Capping
Advancements in Retaining Walls
MSE Precast Retaining Wall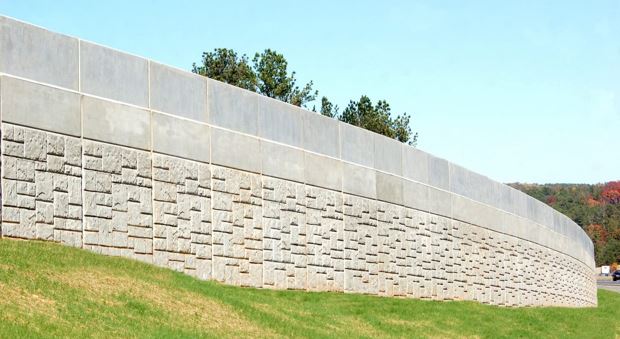 MSE retaining walls are gravity structures designed to resist specific loading requirements. The main components of the MSE Retaining wall lie in rotating layers of granular backfill, and metallic soil reinforcing strips to which a modular precast concrete facing is attached.
Its strength and stability come from the frictional interaction between the granular backfill and, therefore, this, in turn, creates a permanent and predictable bond between reinforcements, resulting in a singular composite structure. other variants of this system include Terratrel MSE Wire Faced Retaining Wall, MSE Precast Retaining Wall with Traffic Barrier.
Advantages
Considerable advantages over, both in construction time and quantity of materials
Great Flexibility, making it possible to create directly upon compressible soils
High load-carrying capacity, both static and dynamic loads
Ease of installation since construction was done by using prefabricated components is rapid and predictable
The Mesa Systems were chosen because of their dependable connection strength to withstand challenging site conditions
TechSpan Precast Arch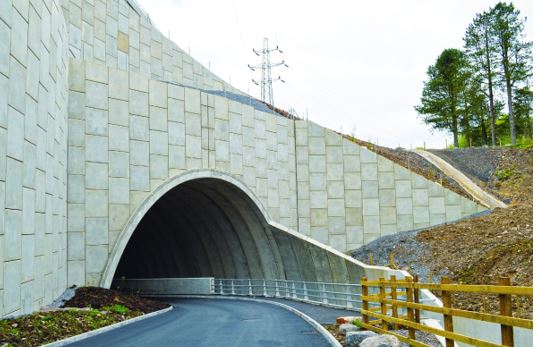 TechSpan may be a modern, three-hinged precast concrete arch system that consists of half arch units that meet at the crown and are supported by an edge that's sized for site-specific conditions.
The innovation of this technology is to customize and optimize the system to every specific project's special loading requirements.
Advantages
Durable precast concrete offers an extended service life with minimal maintenance
Erection is straightforward, rapid and predictable without disruption to flow of traffic
Advanced design procedures and unique fabrication capabilities provide the most efficient use of concrete and steel
Customize and optimize the design for project-specific loading conditions and geometry
TechWall Precast Counterfort Retaining Wall
TechWall may be a precast wall system that fuses a full-height facing panel and counterfort into one unit. TechWall precast retaining walls are used where site conditions include the use of linear reinforcing strips, like construction in cut conditions, and roadway widening.
Advantages
Techwall has considerable advantages over cast-in-place, both in construction time and quantity of materials.
Simple, rapid, and predictable construction
Noise Wall/Security Barrier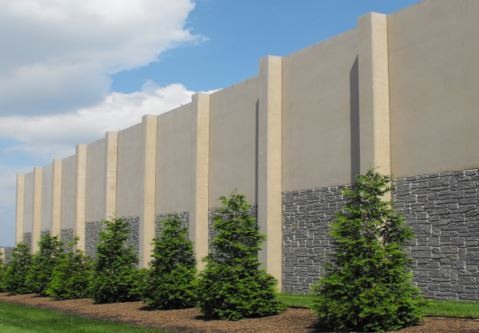 The wall could also be a precast permanent or temporary barrier system that consists of precast modular panels and steel connector cables, which can be used for nearly every noise or security problem. These engineered wall systems include both freestanding concrete barriers and post-and-panel structures. This system provides a cost-effective, practical, and aesthetically pleasing barrier solution for transportation, utility, industrial and commercial applications.
Advantages
Minimal site preparation
Simple, rapid, and predictable construction
Maintenance-free and reusable
Highly resistant to wind loads and overturning
Tension Precast Counterfort Retaining Wall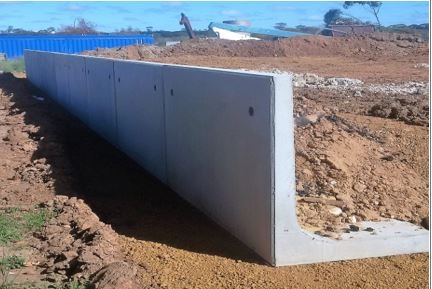 Tension is a precast counterfort retaining wall system consisting of an integral hollow box attached to the backside of standard MSE concrete facing panels stacked on a continuous, cast-in-place, reinforced concrete footing. Tension could also be used for areas where it is difficult to install linear soil reinforcements like severe right-of-way restriction, construction in rock-cut conditions, substantial utility conflict, and roadway widening.
Advantages
Considerable advantages in terms of saving construction time and quantity of materials
Simple, rapid, and predictable construction
Durable precast concrete offers an extended service life with minimal maintenance.
Modular Block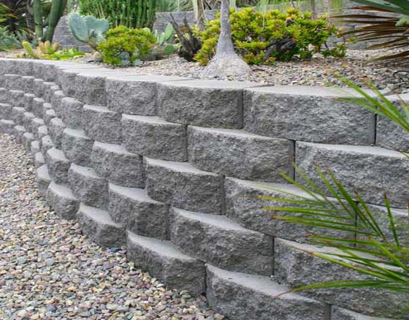 In modular or segmental blocks, retaining walls employ interlocking concrete units that tie back into the earth to resist loads efficiently. The inherent design flexibility can accommodate any constraints, project sizes, and aesthetic preferences. These pre-engineered modular systems are a beautiful, economical, and sturdy alternative to stone or poured concrete retaining walls.
ARES(Advanced Reinforced Soil)
The ARES wall Systems offer a wide range of selection depending on the site needs and application. ARES consists of Modular or Full-Height Panels, which give non-metallic earth reinforcement and are especially suited in areas where salt, chemically active soils, or stray currents are a priority.