SSC JE is a competitive examination conducted by the Staff Selection Commission (SSC) to recruit junior engineers (JEs) for various engineering departments of Government of India.
These departments include the Central Public Works Department (CPWD), Central Water Commission (CWC), Military Engineer Services (MES), Border Road Organization (BRO), etc.
SSC JE examination consists of two papers:
Paper-I (200 marks, Objective Type)
Paper-II (300 marks, Descriptive Type).
SSC JE Paper 1 Pattern
Computer-Based Online Examination
Duration: 2 hours
Total Number of Questions: 200 Multiple Choice Questions
Negative Marking: 0.25 marks
Subjects:
General Intelligence and Reasoning: 50 Questions
General Awareness: 50 Questions
Civil Engineering: 100 Questions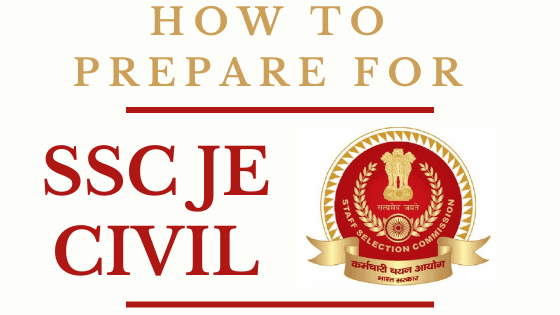 Subject Wise Approach for SSC JE Preparation
General Intelligence and Reasoning
In this section, the questions are asked on logical reasoning topics like Coding-Decoding, Series and Sequences, Odd one out, Direction and Distances, Paper Folding, Mirror images, Blood Relations, Statement and Conclusion, etc.
The questions are asked almost in a similar fashion every year. This is the most scoring part. We should aim for 45+ marks in this section.
Solve previous year question papers. It will help you to know the types and difficulty level of questions asked.
Analyse your strength and weakness.
Learn the concepts behind unsolved questions through YouTube or textbooks.
Practise more.
In real examination. try to solve this section in 40-50 minutes. Don't stick to any question for long.
General Awareness
In this section, questions are asked from History, Geography, Polity, General Science, Current affairs etc.
History and Geography syllabus is very large and comparatively fewer questions are asked. So prepare only if sufficient time is available.
Polity is interesting and can be prepared in a short time through YouTube videos.
Prepare general science; especially biology. It has the maximum weightage in previous examinations. A holistic approach is to read NCERT books of class 6-8th. Lucent's Book /YouTube videos can be a good source
For Current Affairs, you can follow any monthly magazine.
Civil Engineering
In SSC JE examination, 200 questions have to be solved in 2 hours (120 minutes).
So, more theory-based one-line questions when compared to numerical questions are asked.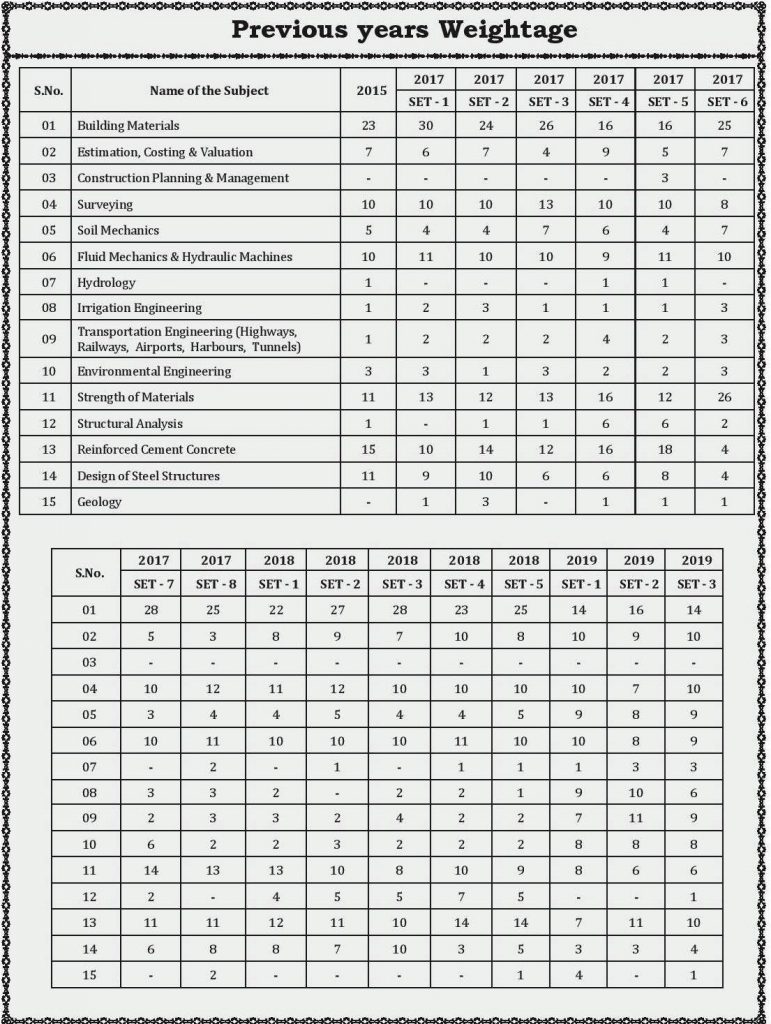 From the weightage analysis, the important subjects are
Building Materials
Surveying
Reinforced cement concrete
Strength of materials
Fluid Mechanics /Hydraulics
Estimating & Costing
Around 70-75 questions can be attempted by preparing only these subjects. Try to solve as many Multiple Choice Questions you can find online or in various books.
Frequently Asked Questions (FAQs)
(Answers are written by Himanshu Mishra)
Question: Which section should I solve first?
Answer: You can opt to solve any section first. If you are solving Reasoning part, do not spend more than 50 minutes. Personally, I read General Awareness and Technical questions to prime my brain. Then I start solving reasoning questions. I believe we should do tough things first.
Question: Should we fear negative marking?
Answer: No. Forget that there is any negative marking. Eliminate at least one option and attempt that question. Don't make guesses for numerical questions or questions that you have no idea about.
Question: What is a good score for SSC JE Civil Paper 1?
Answer: The more, the better because Paper 1 marks are counted in final merit. Paper 2 is conventional. It may be hard to score in Paper 2. Before SSC JE 2017, cutoff marks for general candidates use to be around 100 marks. In 2017 and 2018, it was 117 and 127 marks respectively.
Question: Is there any sectional cutoff?
Answer: No. There is no individual cutoff for each section. It is based on total marks (i.e. out of 200)
 Always remember, every question carries equal marks. Don't be that guy/girl who does not read the whole paper.
P.S.: Please ask your queries in the comment box. We'll answer them in the FAQs section.
About the Author:
Prashant Rajput is working as JE in Indian Railways. He has cracked SSC JE 2018 with 148 marks in Paper 1 and 183 marks in Paper 2.