Plastic is everywhere, like air? Probably Yes!!
All the packaged material that we are using today, comes in an attractively packaged plastic.  Almost one trillion single-use plastic bags are used annually in our world. Now we have to confront this waste problem.
 "It's only one straw," said 8 billion people.
Keeping this problem as a question in mind, in our world of Civil Engineering, we have one solution that might prove a better alternative- Plastic Roads.
The technology was initially developed and patented by Rajagopalan Vasudevan of the Thiagarajar College of Engineering. It was an innovative method to reuse plastic waste to construct better, more durable and very cost-effective roads. It may help in making roads much faster and also will save the environment from dangerous plastic waste.
Such roads may be made either entirely of plastic or plastic and other materials composites. However, there are no records available for roads completely made of plastic only.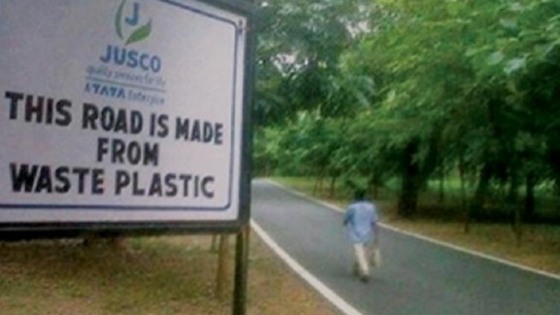 Construction of Plastic Roads
In Indonesia, roads are built using a plastic-asphalt mix in many regions including Bali, Surabaya, Bekasi, Makassar, Solo and Tangerang.
While in Jamshedpur (India), roads were somewhat constructed using a mix of plastic and bitumen.
The plastic used in construction is the recycled one, and hence the foremost step becomes the collection and management of Plastic Material. The most common plastic used in packaging is Polyethylene Terephthalate (PET or PETE), Polypropylene (PP) and High- & Low-density polyethene.
These are first sorted out of the waste, then cleaned and dried. Afterwards, it is being shredded and mixed & melted at a temperature of 170 °C. In this molten plastic, hot bitumen is then added for making it more homogenous. This mixture can be laid as one would with regular asphalt concrete.
Methodology
Waste plastic is primarily converted into powder form and then in varying percent it is mixed with bitumen. Plastic tends to increase the melting point of the bitumen and hence makes the road flexible during winters which may lead to long life. This process enhances the elastic nature of bitumen and overcomes the brittleness.
There are two processes used for bitumen mix flexible pavement, they are:
Dry Process:
This method is same as the general dry process while making bitumen mix flexible pavement, with the only difference that plastics in shredded form is poured over the heated aggregates, which forms a coating of plastic over the aggregates which are then mixed with hot bitumen to form plastic coated aggregate bitumen mixture for laying roads.
The plastic coating degrades the porosity and enhances the quality of the aggregate and its performance in the flexible pavement.
Wet Process:
These are the method used for the formation of polymer-based modified bitumen, in which the waste polymer directly added with bitumen and heated up to the temperature of 1700°C so that proper blend is to be formed with proper dispersion of waste polymer into bitumen, then the hot mix is then cooled up to 1200°C into another chamber, which is then added to the aggregate in the paddling chamber.
The mix is to be cooled because when the hot mix is poured on aggregate, there are chances to form air pocket into the small gap of aggregate. It decreases the strength of rods and increases the chances of rutting of roads. After the addition of modified bitumen at 1100 C on aggregate, it is then laid on the road and then spreader material is compacted by a  roller.
Plastic Roads in India
Chennai was among the first cities globally to adopt the technology in a huge way when the municipality commissioned 1000 km of plastic roads in 2004.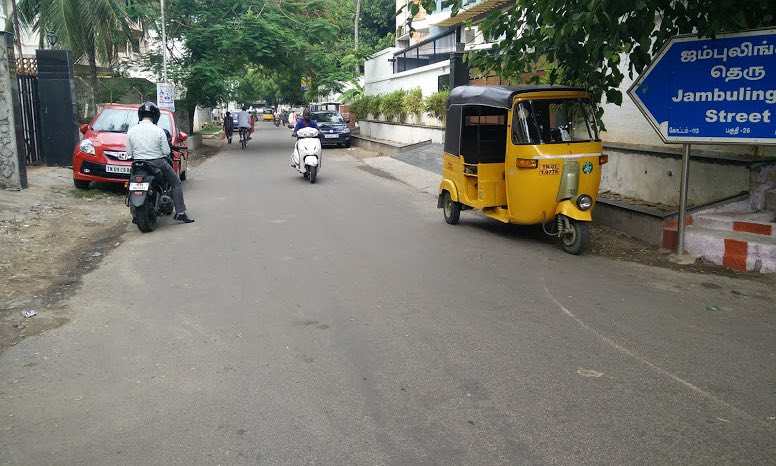 Pune Municipal Corporation constructed a 150-metre stretch of Bhagwat lane at Navi Peth near Vaikunth Crematorium in 2016, using bitumen technology on waste plastic.
Many other examples are there, which explains how our country is embracing this new technology. At present, India has almost 33,700 km of plastic roadways.
Advantages of Plastic Roads
In the proposed model of Volkerwessels, plastic roads can have hollow space built in to allow ease of wiring, connecting pipes, etc.
It provides a lightweight prefabricated construction.
Faster construction with less maintenance time.
Due to the presence of various chemical and physical properties, Plastic roads can be engineered to meet specific requirements.
It does control pollution in a huge manner, as it is an alternative to Landfill, incineration itself. Plastics in Landfills can leak pollutants into the surrounding soil and incinerating creates gaseous pollutants, such as carbon dioxide.
It makes the use of asphalt less, hence is cost-effective.
Plastic-bitumen composite roads are more wear-resistant than standard asphalt concrete roads. These are also more flexible and less water absorbent.
The addition of plastic in asphalt can reduce the viscosity of the mix, which allows a lower working temperature, which lowers VOC and CO emissions.
Disadvantages of Plastic Roads
The present plastic road is not made fully by plastics, Pure plastic roads will require the use of compatible plastics because, when melted, plastics of various kinds may phase-separate and cause structural weaknesses, which can lead to premature failure.
Plastic can break down into microplastics and can find their way into the soil and bodies of water and can absorb other pollutants.
Future Scope of Plastic Roads
Using plastic in road construction is an innovative technology which will strengthen the road and will be able to increase the road life as well.
With the increase in plastic waste, it is the need of the hour to use it wisely, and Plastic roads seem to be a very unique method that is also assuring better disposal. This method is economic and a good method of plastic waste management.
Also Read: 5 innovative building materials in civil engineering