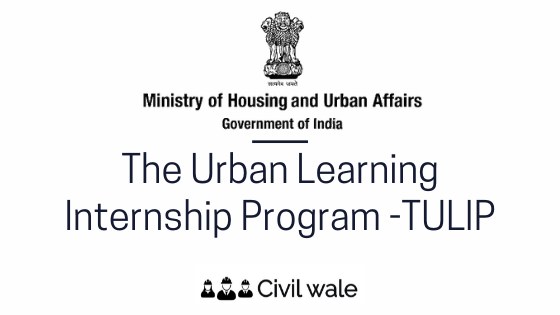 The Urban Learning Internship Program-TULIP is launched under the Smart Cities Mission of Union Ministry of Housing and Urban Affairs. The goal is to provide internships to at least 25,000 young graduates in urban local bodies this year itself, under TULIP
TULIP is a program to provide internship to young Indian graduates in all urban local bodies and hundred smart cities of the country.
It fulfils the twin objective of
Providing experiential learning to youth thereby increasing their value to society
To Promote nation-building through the incorporation of fresh ideas and energy into urban governance in our cities.
It is for the first time in the nation that a system is being introduced whereby young graduates are being provided internships in urban local bodies.
Since India has a substantial pool of technical graduates who should be given a chance to be a part of the urban transformation of India. TULIP would help such young graduates in attaining valuable training & experience. It will create job-ready professionals.
It is essential for graduates to possess real-life skills desired by the job market. There cannot be a better environment than Urban Local Bodies or a Smart City for experiential learning.
Centre will reach out to State Governments and urge them to emphasise upon internships in their cities and play an active role in the program's implementation.
Role of Stakeholders in TULIP
Ministry of Housing and Urban Affairs will provide guidelines, overall management and capacity building of the scheme.
States and Union territories will help in effective implementation.
Urban local bodies and smart cities will implement the program to serve local needs such as work done by Nagar Nigam and Nagar Palika.
Graduates will learn by doing experiential learning in the real complex urban environment.
(Other details to be updated soon…)