After graduation, everyone thinks what should I do now? Some will start working and others want to do further studies.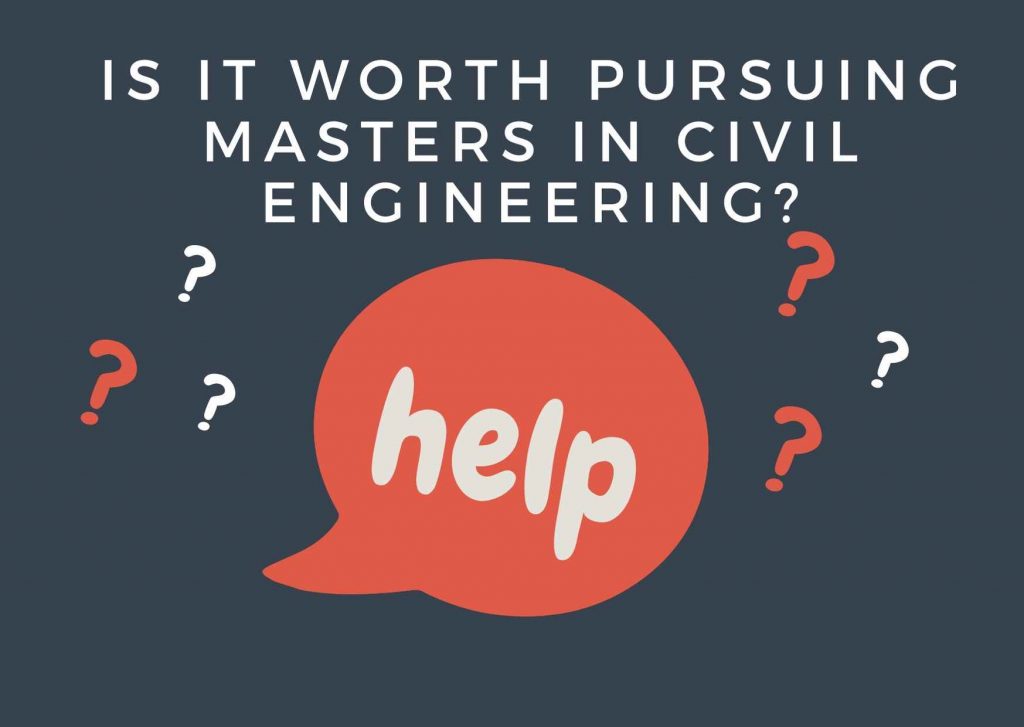 Is Masters worth doing? Where should I do? Should I do my P.G in India? Which institute should I join? Which country is best for doing masters in civil engineering? Will I be able to afford it?
To know the answer's you should first know What is masters?
Masters in technology is a post-graduation degree where you can choose a specialization. There are various specializations such as structure, geotechnical, transportation etc.
There are two different kinds of masters.
Research-based masters.
Course based masters.
Research-based masters degrees require the student to carry out their own research projects in a specialized field of study. There are various research-based masters. However, in India, very few colleges are offering this kind of masters. One of them is IIT Kanpur.
But abroad it is different. They are offering various research-based masters.
Few of them are in BIM, robotic construction, smart materials.
So, it depends on you which you want to choose.
Course based masters:
Below are the famous course based masters.
Masters in Construction engineering: After completion of the post-graduation course, a construction engineer oversees construction projects and evaluates progress. Assign and explains tasks to construction workers. Revise construction plans based on challenges, changes in budgets etc.
Masters in Structural engineering: Structural engineer creates design and plans for various infrastructure projects like bridges, pipeline etc.
Masters in Environmental engineering: An environmental engineer is someone who uses the principles of environment, soil science, biology and chemistry to develop a solution to environmental problems.
Masters in Transportation engineering: Transportation engineer collects and analyses data solutions to problems like congestion, accessibility to highways and others.
Masters in water resource engineering: Develop water infrastructure plans for sewer systems, flood defence programmers, pumping stations.
Masters in Geotechnical engineering: The process of understanding and working with soil and rock, underground water, site and structural condition, in relation to construction projects, is known as geotechnical engineering.
Now you know what is masters. The second question which arises in your brain is where should I do my masters?
If you want to do it in India then you should join IIT which will increase your chances of high pay.
Graduate Aptitude Test in Engineering (GATE) is conducted for admission in masters courses. If you're perusing your graduation then you should start your preparation in your third year second semester. There are many institutes which will help you for preparation. Average courses fee is 2 to 4.5 lakhs. The expenses for your accommodation will vary depending on various factors.
If you want to study you, masters, on abroad you should write English proficiency test IELTS or TOFEL and GRE.
It depends on universities and countries.
Is it worth pursuing a Masters course?
Yes, the civil engineering field is booming with various opportunities that will source individuals to travel and knowledge experiences. The degree is a bridge to learning new attributes of this field that can further help in working at big firms that can assign one to the major project management assignment. The worth of this degree is rapidly increasing considering major opportunities that have attracted individuals with an explicit interest in this field of study. Masters in civil engineering salary packages depends on factors like geographical location and designation.